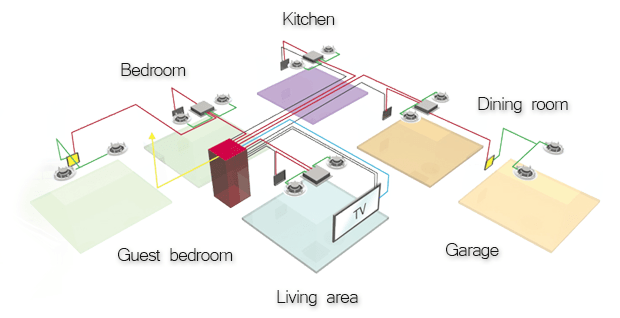 Much of life is based around needs and wants. The word "life style" is frequently used in popular magazine articles from home décor, entertaining, work environment and relaxation. But what we would like or need in the audio field can easily be hidden as unreachable, because of the general lack of exposure and knowledge.
So how about this:
Bedroom sound – you select according to your mood.
Kitchen – music to work to.
Lounge & dining room – relaxing background to entertain guests.
Teenage bedroom – home work pop music.
Patio & outdoor – braai & party music.
Guest room – they select.
Your imagination is the only limit.
The distribution of sound throughout a home can be from an inexpensive single source to multiple options and types including radio, CD, satellite decoder, iPod, computer hard drive, the internet etc. Streaming your favourite music anywhere simultaneously or independently. Your options are unlimited and you can control the volume levels or content according to your preference or standards.
As the designs of these systems are done in consultation with AVG they can be modified as you re-model your home over the years. The introduction of new technologies in the future will always integrate seamlessly with existing equipment. This form of "smart-home" control will also increase the value of your property when selling in today modern demanding market.
Invest in your home and at the same time experience the pleasure of what it can offer. Relax and "hear" the difference.